The group's "smart construction" observation meeting will improve the enterprise's scientific and technological innovation ability
---
In order to keep pace with the development of the information age and strengthen the learning and exchange of "smart construction" among various projects, the group organized and held a "smart construction" observation meeting in Fangshan Xiyue Tianjie project on July 14. More than 100 people from relevant departments of the group, project managers and project chief workers attended the observation meeting.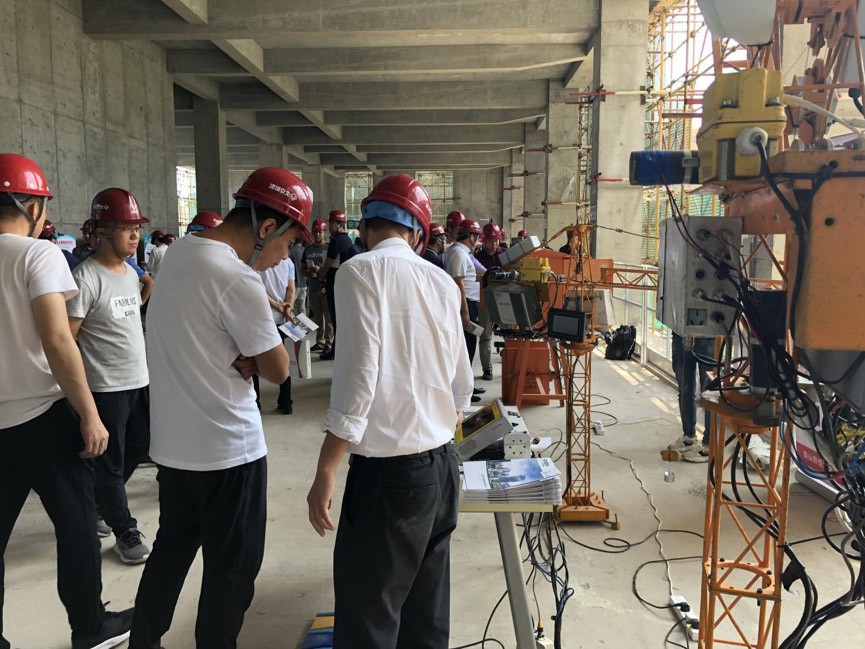 At the symposium, Xue Ping, executive manager of Fangshan Xiyue Tianjie project, introduced the application of smart construction site in the project. Then the participants followed the explanation of the on-site management personnel and entered the exhibition halls of "BIM + smart site" and "innovation driven + mechanization" for on-site observation and exchange.
In the exhibition hall of "BIM + smart construction site", an introduction panel on the practical application of smart construction site platform is set up, including QR code, labor system, production management system, safety management system, quality system and tower crane anti-collision system. In the "innovation driven + mechanization" exhibition hall, the company's own patent transformation products such as tool type reserved hole mould, removable triangular support frame and indirect stubble steel bracket of shear wall layer were described in detail, and the small innovations of finalized water stop steel plate, wire rod reinforcement straightening fixing frame and other projects were displayed. In addition, the exhibition hall also introduces "black technology" such as fully automatic CNC steel bar bending machine, electric trolley and other small and medium-sized machinery, outdoor elevator face recognition system, intelligent helmet and tower crane anti-collision system, so that visitors can broaden their horizons.
At the meeting, Wang Zhenxing, deputy general manager and chief engineer of the group, expounded the application status and development prospect of smart construction site in combination with this observation activity. He pointed out that smart construction site will be the development trend of the industry. Project managers should change their traditional understanding and views, keep up with the changes of the times, adapt to and actively cooperate with the construction of smart construction site, improve the fine management level of construction site through smart construction site, complete the accumulation of enterprise big data, and jointly improve the scientific and technological strength of the group company and its core competitiveness in the future market.
This observation activity has enhanced the learning and exchange of various projects of the group in smart site construction, small and medium-sized machinery and the application of the company's own patents. In the context of national big data strategy and 5g business, the group will focus on the future, strengthen scientific and technological innovation and high-tech application, make the group in the forefront of the industry in intelligent and information management, and build more high-quality projects with wisdom and innovation. (Zhang Youzhen)