Deyuan Tianchen phase I Shanda delivered more than 800 houses, and the owners moved to their new homes
---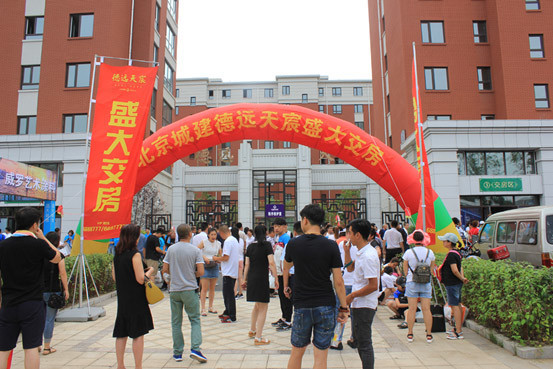 Through thousands of mountains and rivers, the most beautiful is the way home. From a blueprint to a panoramic bloom, from dreaming life to presenting quality, Deyuan real estate has fulfilled its initial commitment with unremitting efforts.
From July 28 to 29, the Deyuan Tianchen phase I project developed by Beijing urban construction north Deyuan real estate was officially delivered to the owner. The delivery is divided into two batches, involving more than 800 houses, such as foreign houses, small high-rise houses and businesses. In order to ensure the smooth delivery of the house, all staff of Deyuan Mudanjiang company took precautions and made detailed arrangements in advance.
In the early morning of July 28, the owner of Deyuan Tianchen phase I finally ushered in a festive delivery time. With excitement, everyone arrived at the delivery site early with their families and waited for the delivery procedures.
In the process of waiting, the owners look forward to the future with full expectation. From strangers to neighbors, fate is so wonderful. The scene was full of laughter, the atmosphere of happiness echoed in the air, and the long-awaited key to the new home was finally held in the hands of the owner.
The staff at the delivery site greeted every owner who came to handle the delivery procedures with full enthusiasm and patiently introduced the details of the delivery. The staff accompanied the whole process with a smile and assisted in the submission procedures. Everything was in order, which fully demonstrated the high-level service quality of Beijing urban construction north Deyuan real estate.
Check in owners have said that the residential quality is very satisfactory, and the relevant living facilities in the community are also exciting. The meticulous and considerate property services make people full of expectations for a better life in the future.
The joy of delivery and the happiness of going home, we will remember the most beautiful picture of snow city this summer - the happy smiling faces at the delivery site. The perfect presentation of Deyuan Tianchen phase I house delivery will be a new starting point. On this basis, Deyuan real estate will continue to innovate and grow, constantly explore on the road of leading quality, service, quality and technology, strive to create a better life, improve product quality and benefit thousands of owners.