Carry the banner and play the melody of struggle
---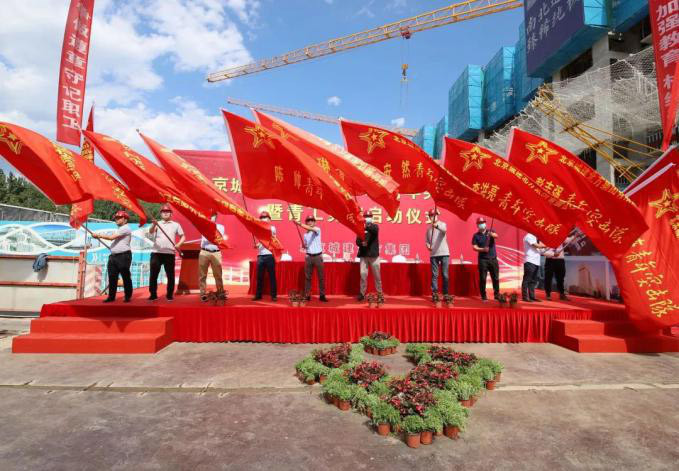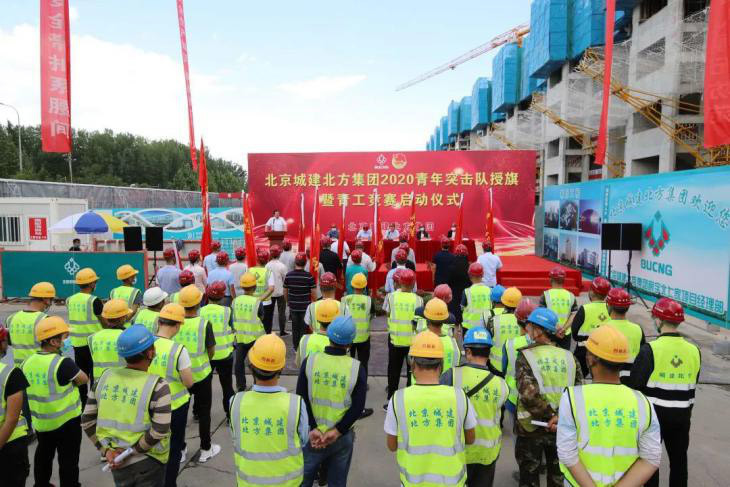 The group held the launching ceremony of the youth commando flag presentation and youth worker competition
A fiery may is a season of struggle. In order to fully mobilize the enthusiasm, initiative and creativity of young employees, based on their posts, work hard, play a pioneering role in various construction projects of the group, and ensure the successful completion of various tasks. On May 26, the launching ceremony of the group's 2020 youth commando flag presentation and youth worker competition was held in Chenyu north seven projects. Wu GUI, Secretary of the Party committee of the group, Cui Xiaoli, deputy general manager and chief economist, Lei Zhenyuan, deputy general manager, and Wu Dan, deputy secretary of the Party committee and chairman of the trade union attended the ceremony.
The ceremony commended the advanced collectives and individuals organized by the Youth League in 2019, the advanced units of youth workers' competition and excellent youth commandos, and deployed the work of youth workers' competition in 2020. In the passionate March, the leader awarded the bright red "youth commando" flag to nine commando captains such as Enron. Liu Jidong, deputy production manager of Haikou sunshine county project department, spoke as a representative, calling on all young commandos to give full play to their role as the main force, actively and effectively promote the management and control level of the project, and contribute their youth to achieve full performance and build high-quality projects.
In his speech, Wu GUI, Secretary of the Party committee, hoped that in the future work of the commandos, first, find the right combination point. We should give full play to the surprise role of young employees in the urgent, difficult, dangerous and heavy tasks of enterprise construction and production, strengthen the work concept of mastering new skills in competition and creating benefits in management, and achieve a bumper harvest of economic and social benefits. Second, implement the focus. Through the competition, we will continue to do a good job in the pairing of teachers and apprentices, post training and other activities, so that young employees can establish their own posts, constantly forge ahead, strive to cultivate a group of excellent post experts, and play a positive role in the talent reserve of the group. Third, give full play to the advantages of the team. All youth commandos should combine their own advantages, find the right goals in their respective engineering projects, make accurate efforts, improve management and create brands.
With the order of secretary Wu GUI, the youth worker competition was officially launched. In 2020, a sudden epidemic pressed the tentative key for construction and production. With the improvement of the domestic epidemic situation, the construction sites of the group quickly set off a new round of construction climax. The youth commando team and the majority of young employees will give full play to the role of "new force" in the development of the enterprise, based on their posts, full power, strive to create excellence first, and strive to minimize the impact of the epidemic on construction and production. (Shi Furui)